HMI
Healthy Marketplace Index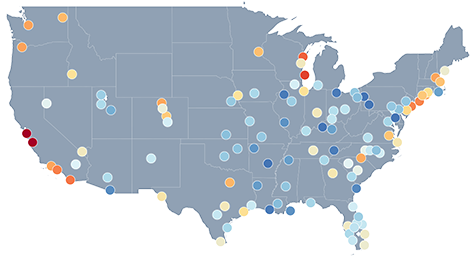 Measuring the performance of local health care markets is an important step in tackling the rising cost of health care in the United States.
HCCI tracks drivers of health care spending across 124 U.S. cities through the Healthy Marketplace Index (HMI) project. Our full report presents an interactive exploration of HMI metrics. We are grateful for the Robert Wood Johnson Foundation's support of the Healthy Marketplace Index.
Or dive right into specific drivers of health economic performance, such as:
PriceUsePrice & UseHospital Concentration
Other HMI Publications
We analyzed a subset of negotiated rates to report prices for 6 commonly-used services among individuals with employer-sponsored insurance and found striking variation
In an article published by Health Services Research, we ompare different methods of indexing health care service prices for the commercially insured population across geographic markets.